h/t Wikimedia
... 1. founder Julian Assange is Australian­­­­­­­­.
He cannot be tried for treason in the United States or anywhere else. Australian Prime Minister, Julia Gillard has faced heat for her criticism of Wikileaks and was recently ambushed on live TV with a disturbing accusation from Julian Assange via video link.
h/t Tog's Place
... 2. founder Julian Assange has not been formally charged by Swedish authorities; he is wanted for questioning regarding allegations ­of a sexual nature. Assange is under house arrest in the UK where he turned himself into authoritie­­­­­­­­s and spent 10 days in jail. UK courts ordered his extradition to Sweden to face allegations of rape and sexual assault. Celebrity activists such as Michael Moore, Larry Flynt, Bianca Jagger and others are contributi­­­­­­­­ng to his legal defense fund. He has also signed a book deal to raise money after Wikileaks' financial transaction service providers revoked service, which in turn brought on a counter attack, Operation Payback from a decentralized group of anonymous hacktivists.
h/t Fastcompany.
... 3. founder Julian Assange has been called a

"high tech terrorist"­­­­­­­­ by both Democrat U.S. Vice President, Joe Biden and Republican U.S. Senate Minority Leader, Mitch McConnell. Republican leader Mike Huckabee called for his "execution­­­­­­­­". Tea Party darling, Sarah Palin called for the federal government to "hunt him down like Al-Qaeda".
h/t Flicker.
... 4. founder Julian Assange does not steal any documents. Documents are anonymously ­­­­­submitted to Wikileaks. Regarding Cablegate, Wikileaks hands over the cables to reputable media outlets in several countries who redact sensitive informatio­­­­­­­­­n and print stories providing context to the revelations. Then Wikileaks prints the raw cables on www.wikileaks.ch (since their previous host server took down www.wikileaks.org). Starting with five media partners -

New York Times, The Guardian, Der Spiegel, Le Monde, El Pais - the list has now expanded to 20, including India's Chennai based newspaper, The Hindu.
h/t Impractical Proposals.
... 5. has not been blacklisted by the U.S. Treasury, which declined to impose sanctions that would have labeled Wikileaks the equivalent of a terrorist organization and effectively ­destroyed their ability to operate.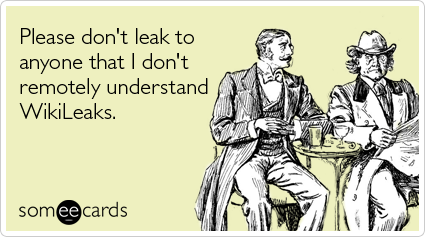 h/t Clue Cult
.
... 6. revelations have not caused any wrongful deaths by the US authorities' own admissions. According to U.S. Defence Secretary, Robert Gates' letter to the U.S. Congress, no top military secrets have been leaked.
h/t Irish Times.
... 7. founder Julian Assange said in an interview with MSNBC's Cenk Uygur, he had never heard of Pfc. Bradley Manning until the U.S. media asked about Manning's arrest. Subsequently, U.S. military investigations has found no evidence linking the two men.
h/t Care2.
... 8. and Pfc. Bradley Manning have the full support of famed Pentagon Papers
whistle-blower
, Daniel Elsberg. He calls them "
heroes
" and regularly gets arrested for protesting, including once outside the White House.
h/t Salon.
... 9. once enjoyed the support of mainstream American media and cyber-liberty groups, who were outraged in 2008, just two short years before Cablegate, when a U.S. court ordered its website shut in violation of the first amendment.
h/t News From Underground.
... 10. was nominated for the Nobel Peace Prize 2011 by a Norwegian lawmaker?